It's that magical time of the year, the start of baseball season. I am a baseball fan and there is nothing that brings happiness as the beginning of spring and the joy and optimism of the start of baseball season.
I have fond memories of going to baseball games with my dad as a little kid. This was always the highlight of the week when I got to go to Shea Stadium.
It should not be a surprise that I created the legacy of going to opening day with my kids. It began with a job transfer the October before moving me 2 hours away from my soon to be 4 year old son. I promised him that I would be home with a new job and take him opening day.
The picture of the baseball was the one they gave out that day, I have left it in the plastic to preserve it and it has for 22 years.
I can always tell you when I started the new job by looking at the baseball, it was the Tuesday after opening day. I delayed my start by one day because I promised my son.
We have gone to a lot of ball games, but there was something special about taking my son, and then my son and daughter to opening day. We did it from the time he was 4 until his sophomore year of high school were, he felt he could not miss class.
I created the legacy of opening day with my son. Opening day for the Royals is Thursday my 4 year old is now 26 and in Florida playing golf for a few weeks, I am working. Neither of us will be at opening day.
Last year the family went back to NY for a memorial mass for my dad. The next day, father's day I took my son, nieces and nephews to Yankee stadium to a baseball game. (The Mets weren't in town.) It was my nephews first pro baseball game.
But in three weeks my son and I are going to St. Louis, catching the Mets on Friday night, golf on Saturday morning followed by the early afternoon game before we head back to Kansas City. This weekend will be another one that gets added to the memories.
Below is my son and I at game two of the Mets-Royals World Series. Great memories. Spring is here so I have a question for you.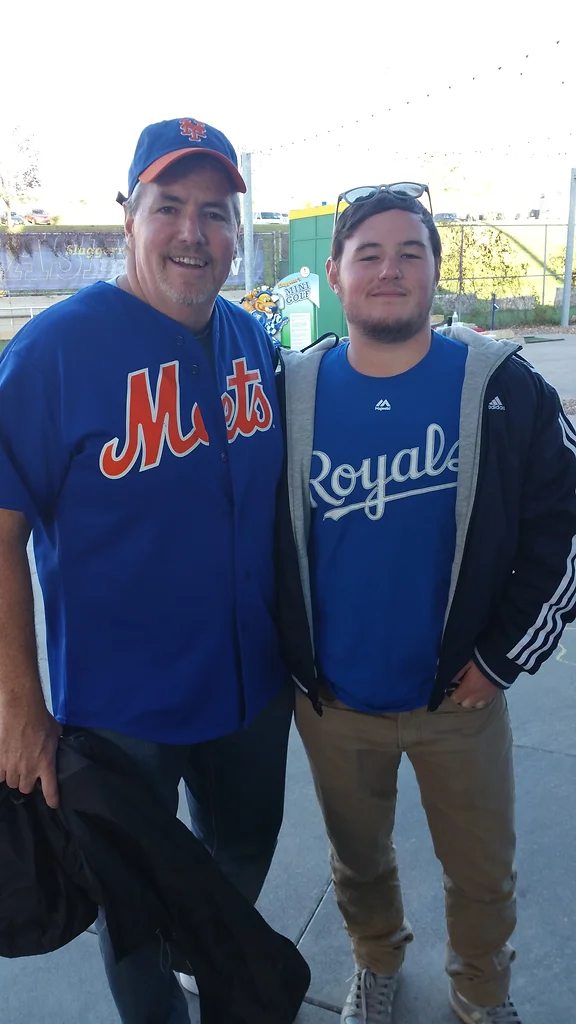 Game two Mets-Royals World Series!
What memories, what legacy will you start with your children?